Meet Us
Meet the Ladies Behind BCB
Hey Y'all!
Thank you for checking out our site. We are Stacey and Aubrey Elise, we are the mother/daughter duo behind Beau Colibri Boutique. We are so excited and grateful you are here! Hope y'all enjoy our site!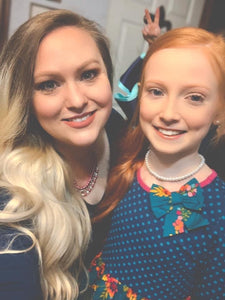 Reviews
"Stacey uses high quality materials, has super quick delivery, and can make anything you need for any outfit you show her. I've been having bows made by her since my 10yo was a baby and they've held up through three other little girls and still look as good as the day they arrived! I can't say enough good things about her work!"

Rachael G.
"Stacey has amazing quality bows. She is dedicated and can bring any vision to life. If your looking for bows, please don't look anywhere else as you will get the best with Stacey. " 

Kelsey R.
"I'm a mother of three little girls, and I love bows in their hair. I've known Stacey for several years, and when she started making bows for herself, I begged her to make some for my daughters. Stacey is meticulous and so imaginative with her material and the details of each bow. You will not go wrong if you order from her."

Judy W.
"🎀🎀🎀Stacey makes high quality bows with such care taken on each one. I can tell these will last forever because of the time she took on each one. I'm highly impressed and would recommend her bows to any mom wanting special order bows for their sweet girl! Thank you Stacey!!!🎀🎀🎀"

Michele D.
DISCLAIMER
Beau Colibri Boutique hair bows are made to last, however, hair bows do contain small parts that can present a choking hazard to children and animals. Children should never wear hair bows when unsupervised. Keep hair bows out of reach of children when not in use. Hair bows are not meant to be toys or teethers. Hair bows should never be allowed in a child's mouth. Buyer assumes all liability and Beau Colibri Boutique is not responsible for any injuries.